Our 100% Money-Back Guarantee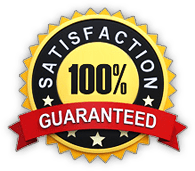 We don't base our guarantee on whether or not you pass your exam. From the moment you purchase our product, we provide you with a 100% money-back guarantee. If you are not satisfied for any reason, simply contact us for a full refund within 120 days of your purchase. No other company can offer a stronger guarantee!
Note for Premium Package Members: Refunds cannot be provided if you have already had your private session.
How can we offer such a strong guarantee? Because this is the sort of feedback we get on Facebook: